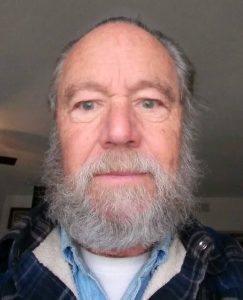 I have a degree in Civil Engineering and a Masters in Environmental Health Engineering both from KU.  For 38 years, I served as EPA Region 7's solid waste engineer while starting the hazardous waste program, the underground storage tank program, the pollution prevention program and the energy star program.  My final assignments were climate change and sustainability, working with state agencies and colleges.
I currently work as a volunteer at the Overland Park Recycling Center and as a Master Gardener in Miami County.  My interest in active and passive solar energy and wind energy started in the mid 1990's when the scepter of climate driven oblivion was presented by AIG to the insurance world.  Renewable energy replacing fossil fuels is the only solution.  Sustainable living styles and practices feed into the climate solution.
My wife and I built an energy efficient (passive solar, heatilator, ice house roof, complete insulation inside and outside, etc.) home with solar panels (and soon to have a battery).  A Plug in Prius, battery lawn mower, exterior lights and power tools, and use of only Energy Star highly rated appliances and products add to the efficiency while local organic gardening and recycling contribute to renewable practices.  It is a start.
Support of college programs that feature sustainable and renewable energy efforts is an integral part of where we must go as a society.  Demonstrations of what is possible in terms of energy efficiency for both rehabs and new construction are vital to building an educated public that will drive change.  The HRES plays an important role in making change happen that will ultimately determine the fate of mankind.