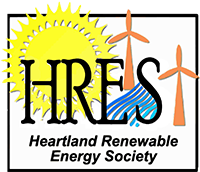 432 Indiana, Lawrence Kansas: Home features for HRES solar tour
Saturday, October 14, 2023 at 10 am
A high performance home including passive solar and photovoltaic panels.
A High performance single family home
Built to USGBC LEED Platinum standards.
Highly insulated building envelope. Wall assembly R-values of 34.17, and roof assembly R-value of 61.07.
Blower door tests.
South facade allows natural daylight year-round.Louvers mitigate direct solar gain in the summer put permit winter entry.
Thermal mass in concrete floor.
Sixteen photovoltaic panels to help generate part of the electrical load.
Low VOC emitting finishes in the interior.
Most appliances meeting energy star and water sense ratings.
Garage is wired for electric car charging.
Driveway paved with permeable surface to minimize storm water runoff.Also on-site rain garden.