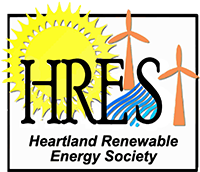 The purpose of the Heartland Renewable Energy Society (HRES) is to further the development and the use of renewable energy and energy efficiency technologies, to promote those businesses on the cutting edge of renewable energy, and to educate the public, businesses and our policy makers on the need to create a clean, safe, renewable energy future. We do this through our frequent workshops, annual tours, and special events.
Since energy is perceived by most of the public as the needed focus for climate solutions, HRES takes every opportunity to make the connection between the planet's energy usage and the accumulation of green house gases in our atmosphere. Climate solutions, however, are not limited to energy usage, and HRES includes education on much more. All impacts on our Earth's atmosphere will be included in the scope of our work. Thus, a wide range of topics that are changing our planet ranging from food and agriculture; women, girls, and family planning; land use; and our personal habits and practices are fair game for our educational goals.
All of the activities of the Heartland Renewable Energy Society – the Energy Solutions Homes Tour, Workshops, Newsletter, Website, Email Lists, Presentations, and Educating, Monitoring, and Reporting of Legislative Activities – are performed by volunteers who feel strongly about the imperative of renewable energy, energy efficiency, and sensible sustainable development.
The HRES Board, our Friends and Members, and the many companies that we support who are working on renewable energy and energy efficiency… we are all proud to be on the front line of the battle to protect our miracle planet.  This is important work.  You can support this work by joining the Heartland Renewable Energy Society!